Los Angeles Interior Design Services Portfolio
Commercial Interior Design: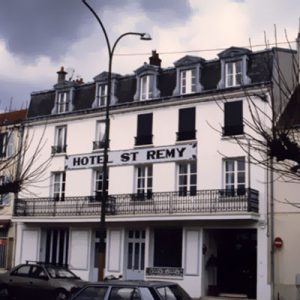 Not all of our Interior Design projects are in Los Angeles. In fact, just east of Paris – France, this charming boutique hotel project brought harmony to its historic site.
One piano bar lounge, a breakfast room and 31 bedrooms including a presidential suite, are intimate enough in scale creating the ambiance of being a personal guest in a private home; rather than just a hotel occupant. The rest of the ground level encompasses a conference room and executive offices.
The design intent here is to maintain the basic structure while seamlessly inserting a contemporary intervention.
Inside, the envelope is pure white interrupted only with rough and elegant materials. Each bed's headboard is a uniquely designed. Glass enclosing the bathrooms and dressing rooms with Venetian plaster walls that casts a moody blue.
The historic ball room and piano bar were preserved to their original state. Their wall patina hues of blue and green domoniered along with trompe l'oeil work on the ceiling. The flooring in solid Walnut planks spread all over to exclude the piano bar and lobby in kerakoll.
Resources:
Fratelli Fantini: Sink Fittings, Shower Fittings, Tub Fittings.
Flos: Lighting Consultant (Headquarters).
Furniutre: manufactured overseas.
Kerakoll: Flooring